This ProtoCON Online event will take place on August 28th, 2021.
Welcome! Below are the current games available to play at ProtoCON Online Aug 2021! Please browse through all the participating games and sign up HERE, or with the button below, to reserve a spot for those games you'd like to play most! Feel free to sign up for as many games as you like! Also, if you are a designer participating in this event, please be generous with your time playing other people's games!
---
---
Aliens at Work
Designed by David Sals
2-4 Players
45 Mins
Platform: Tabletop Simulator
Description
Incubate and hatch aliens, then place them in factories, generators, spaceships and more that you build. Group aliens in the right factions to score more points. Don't have enough resources to do all of that? Then recycle your aliens to get more! Set collection meets resource management in this fun and somewhat silly card game.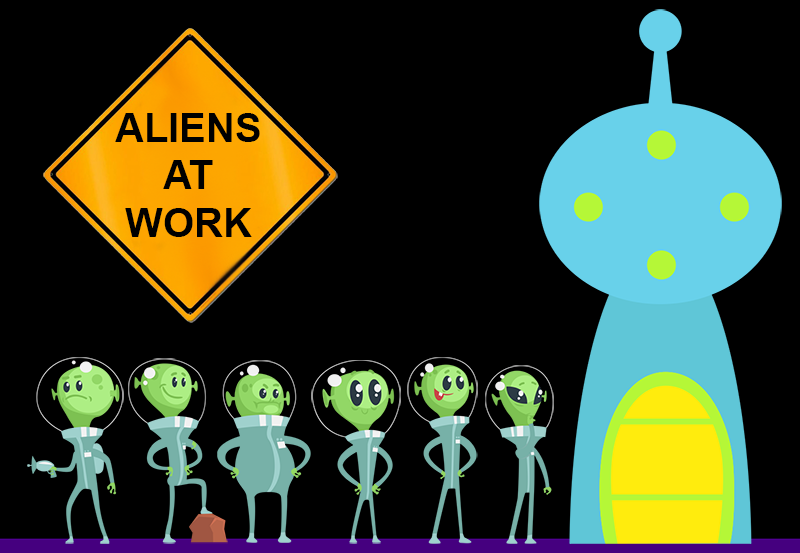 ---
---
Cake of Doom
Designed by Pearl Ho & Amar Chandarana
3-6 Players
15-30 Mins
Platform: Tabletopia
Description
A casual, light-hearted card game of cakes with lots of 'take-that'. Compete to takeover the world… by offering delicious cakes and surviving any baking disasters from devious opponents. The first player to control the UN triumphs – let the bribery and sabotage begin!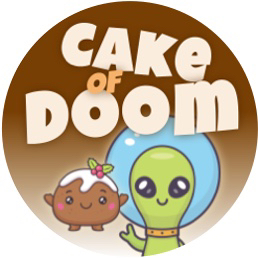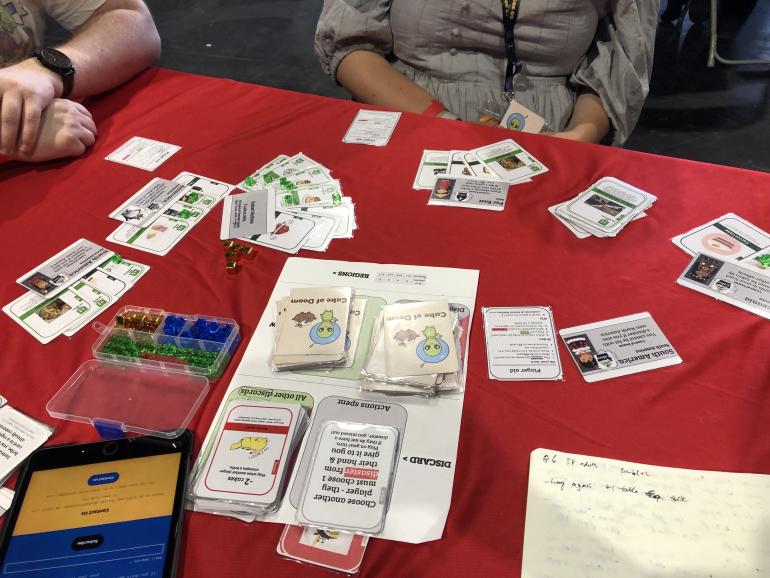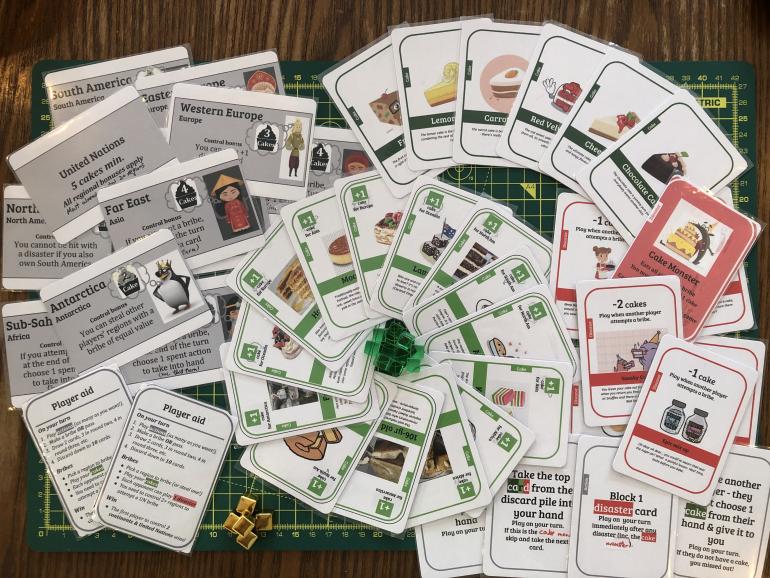 ---
---
Con Artist
Designed by Jeff Beck
3-8 Players
15-30 Mins
Platform: Tabletopia
Description
Welcome to the world of the underground art trade – full of shady characters and even shadier deals. You and your gang have snatched a handful of priceless (and worthless) pieces of art from museums around the world. Now it's time to fence them off for some cash, all while grabbing a few art pieces to add to your own collection. But stay on your toes – this is no ordinary auction. If you play your cards right, you could walk away with a masterpiece – and maybe even the money you promised to pay. But get too greedy and you could leave with nothing but a pile of trash.
Con Artist is a quick and lively family-weight game for 3-8 players. Can you outsmart the rest of the table and walk away the winner?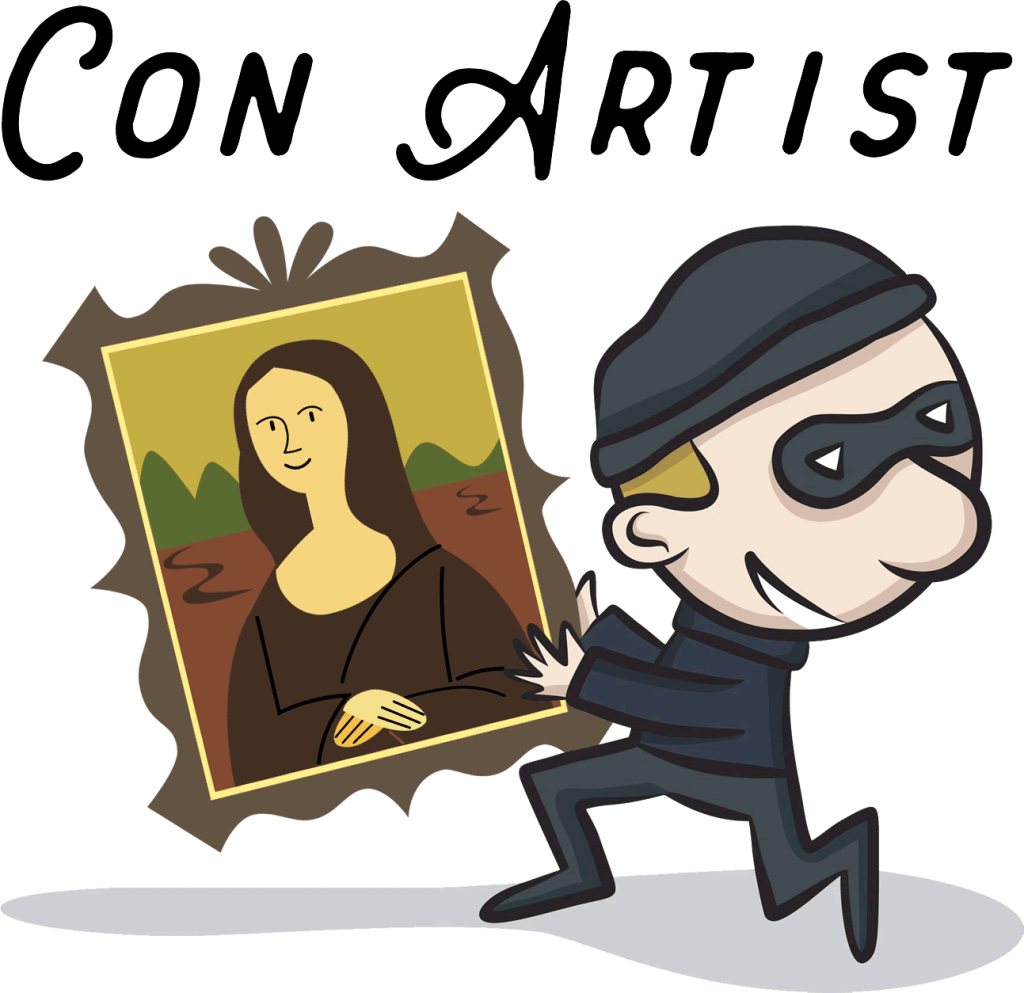 ---
---
Diamonds for Water
Designed by Sarah Sayles
2-4 Players
90-120 Mins
Platform: Tabletop Simulator
Description
Water is scarce around the globe—you and your team of water experts are called on to solve the problems before time—or water—runs out! In this cooperative deck builder you play as a real-world character such as a farmer, engineer, or activist joining with other experts to combat water scarcity. Based on a kind of economics "joke", the team gathers food, energy and diamonds to spend on each of three different water problems at different places in the world. As you work on smaller problems, the tension and difficulty mounts. Don't wait too long to tackle the Main Objective, or you might just run out of water altogether!
---
---
Faction Fighters
Designed by Aaron Treglown
2 Players
30 Mins
Platform: Tabletop Simulator
Description
Faction Fighters is a head-to-head card battling adventure. Experience a unique simultaneous selection system, concise-approachable gameplay, and emergent tactical depth. Explore 15 different factions and 4 area decks. Timing is everything as you bluff or bolster your way to victory!
Faction Fighters Rules
Faction Fighters Scenario Book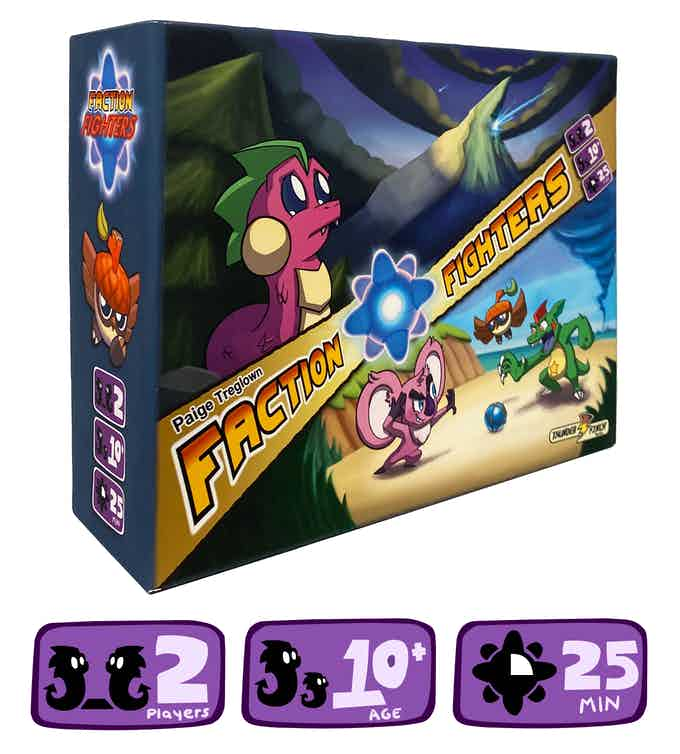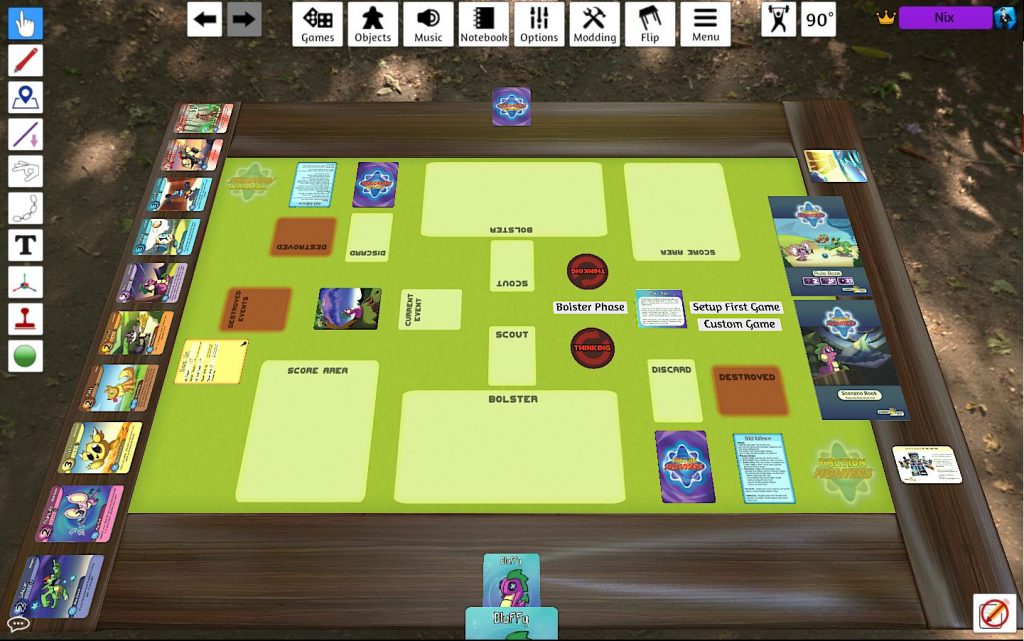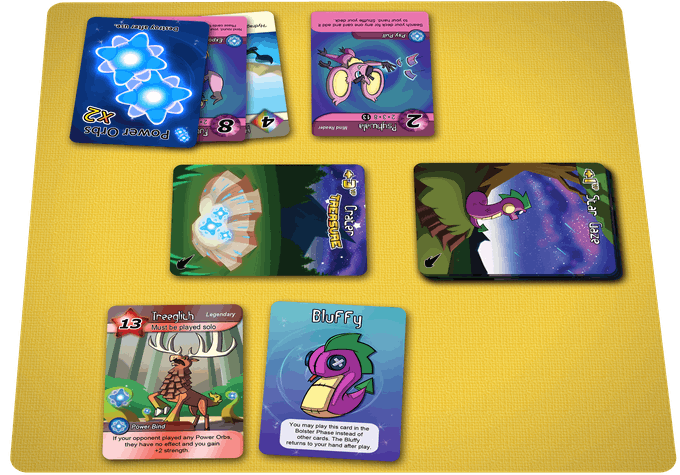 ---
---
General Your Turn!
Designed by Wei Chang
4 Players
30 Mins
Platform: Tabletop Simulator
Description
This is a light-weight, fast-paced cooperative game with limits of communication. As players being the generals, they have to cooperatively work out plans to complete the tasks, mainly focusing on swiping off the enemies without communication of any kind. Each task contains 3 rounds, and each round has a time-limit around 60 to 90 seconds. On player's turn, s/he has to put down a black block to cover up an existing colored block.

After all players have put down the blocks, they then resolve the pattern they have created together and see if it could defeat the enemy or not.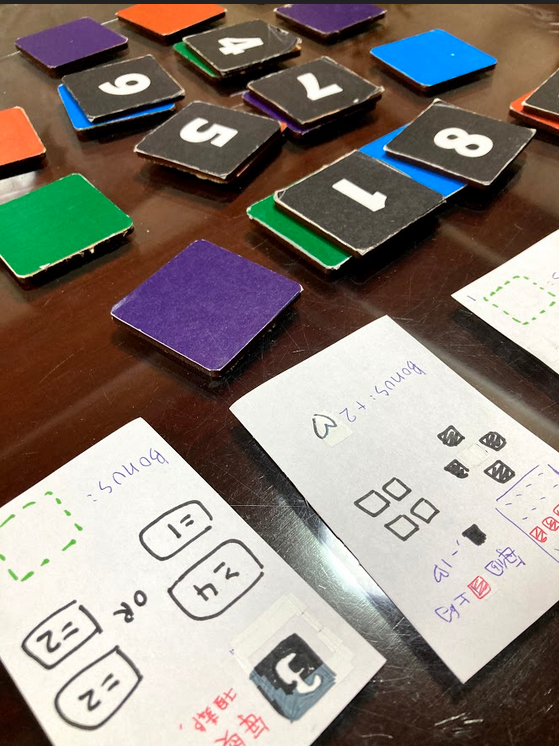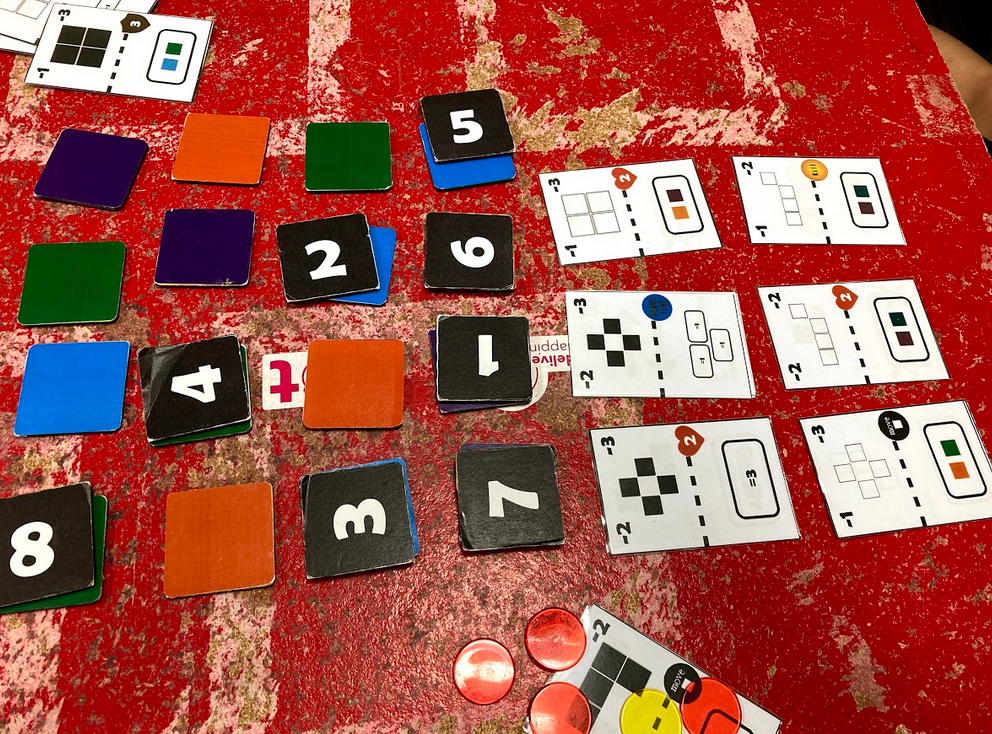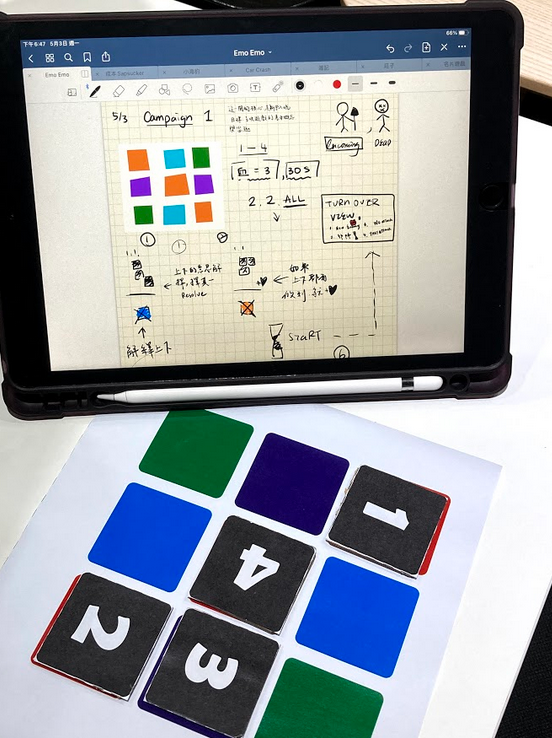 ---
---
Grub Dash
Designed by Jeff Zivkovic (Mr. Z)
2-4 Players
60 Mins
Platform: Tabletop Simulator
Description
Hungry customers in this town want burgers for dinner…but their roommates want burritos! That's why, as a GrubDash team captain, you specialize in picking up everybody's favorite foods from every corner of the city.

The five major fast food companies in this city, they absolutely LOVE IT when Grubdashers pick up LOTS of their food. So they each offer a bonus to the team who picks up the most.

You want your team to earn those bonuses, so you'll need to secretly assign your employees and outsmart your opponents. Can you secure the bonus by sending a Level 3 car to Burger Sultan? Or will an opponent swipe that bonus out from under you by sending a Level 4 car? Maybe your scheme is the most clever, but you won't find out until players reveal their plans. Complete your customers' orders. Upgrade your team with new cars and carry bags. Earn the most reviews from your customers to claim the title of Top GrubDash manager!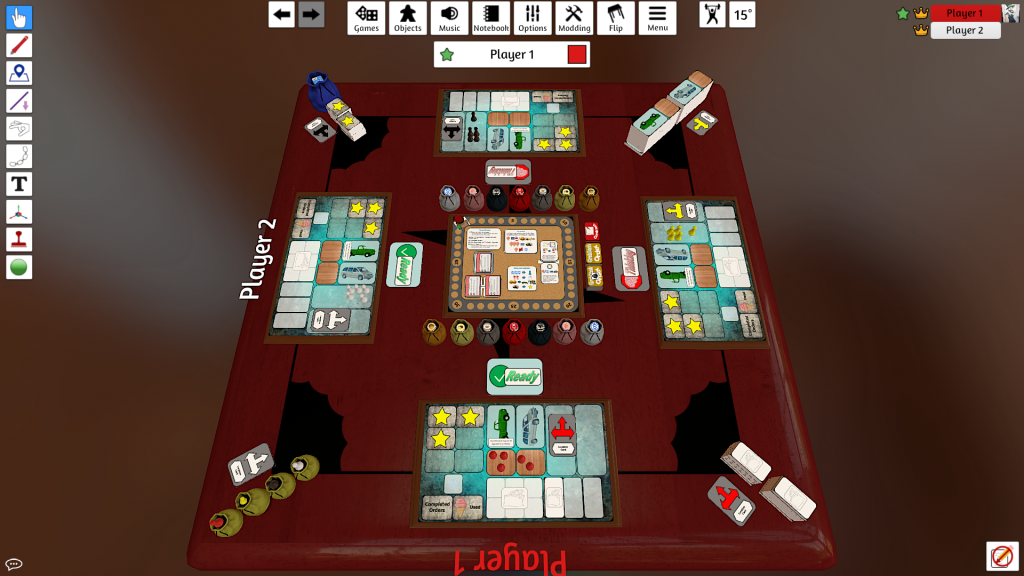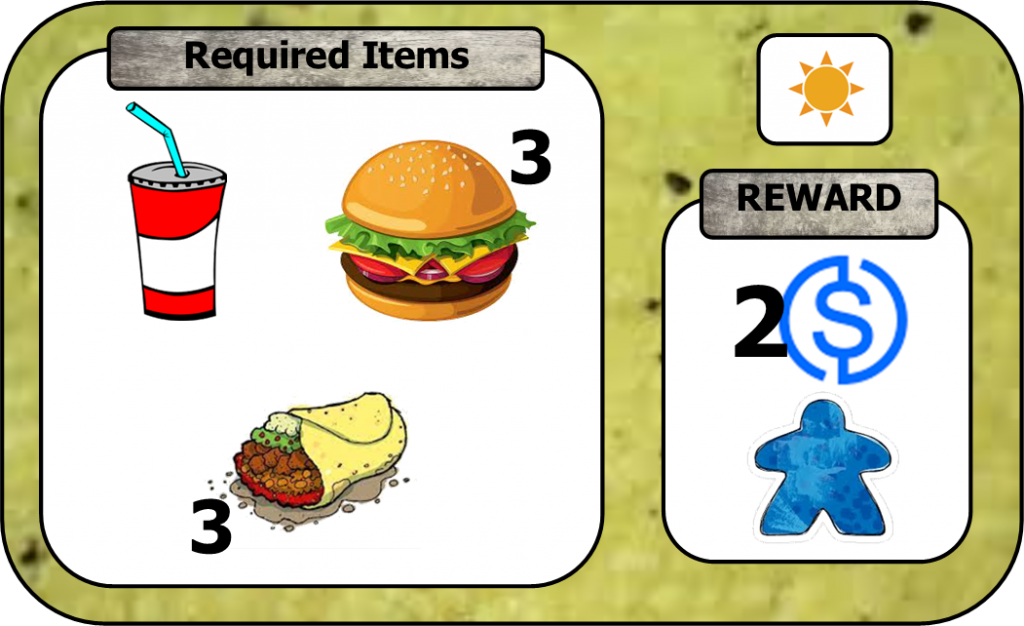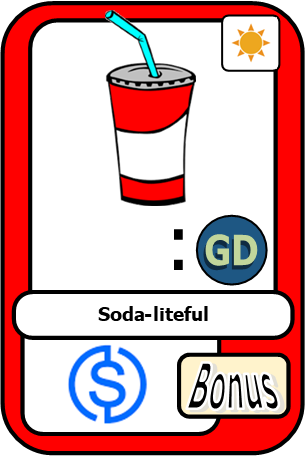 ---
---
Mechlemental
Designed by Bevan
2-4 Players
60-90 Mins
Platform: Tabletop Simulator
Description
Take control of mechs as you attempt to reclaim a land long lost. Use your engineers to build mechs, research tech and command your growing robot army to clear enemy mechs, cleanse the land of curse and resettle your clan, all whilst trying to complete your own agendas. Using spatial worker placement, area control and engine building, Mechlemental is a mid-weight euro which I hope to get down to a lean 60 minutes!
---
---
Opening Night
Designed by Ryan Horricks
2-4 Players
60-120 Mins
Platform: Tabletop Simulator
Description
Play as a Broadway producer staging a musical. Opening Night is a medium weight strategy game, using worker placement actions, card tableau building and set collecting. Players will grow their creative team, hire performers and backstage crew while collecting dance, music and costume resources in the hopes of gaining the best Opening Night reviews.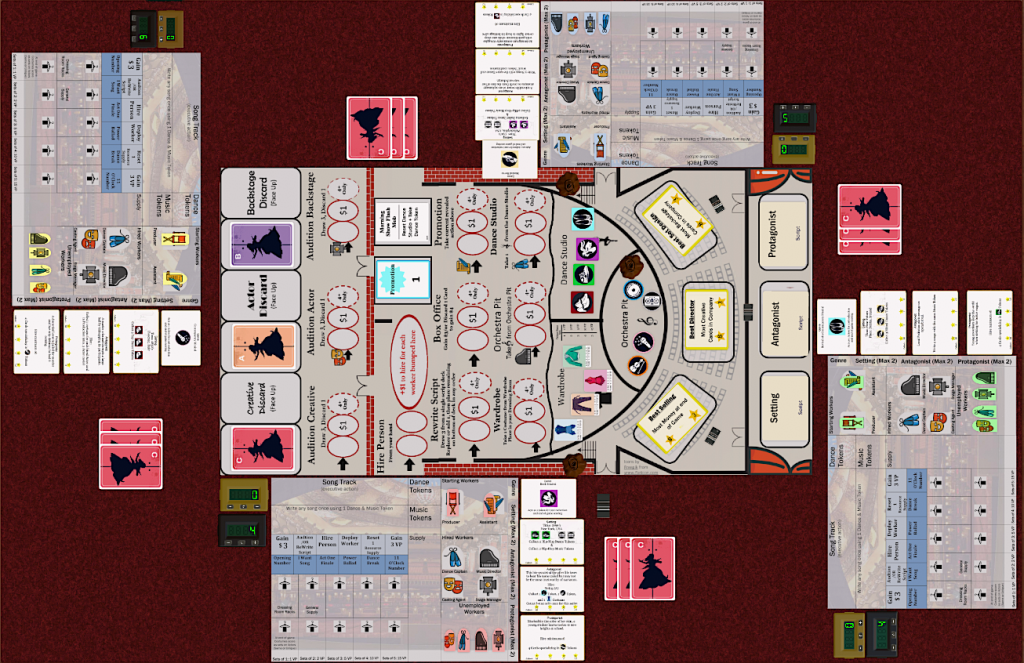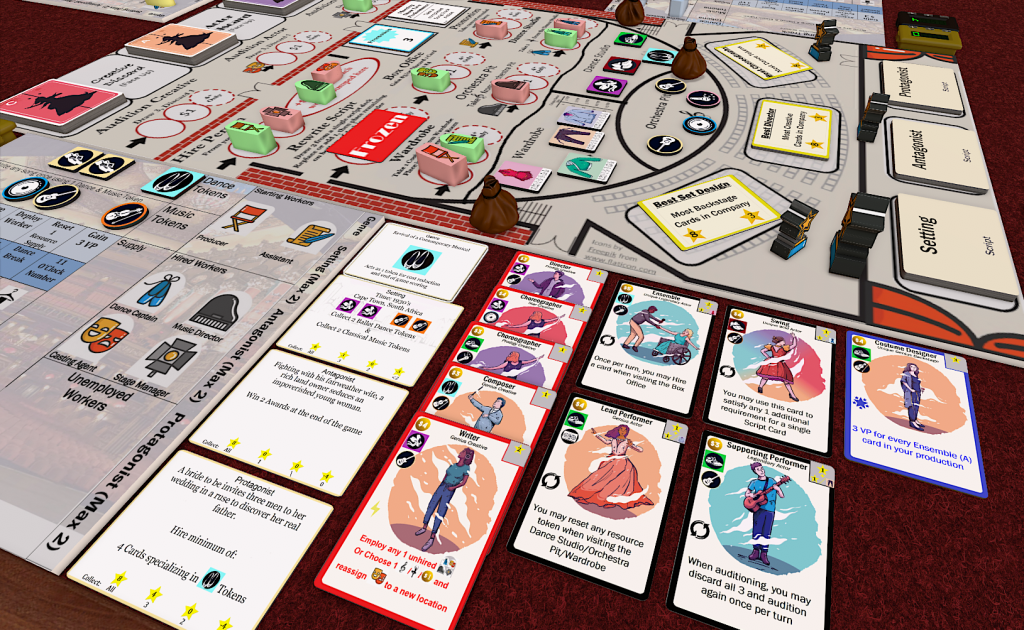 ---
---
Old Man Merlin
Designed by John Wood
2-5 Players
30-45 Mins
Platform: Tabletop Simulator
Description
Do you know the story of Merlin and the Knights of the Round Table? It's a tale as old as…whatever! ALL YOU NEED TO KNOW IS MERLIN AGED DOWN LIKE FROM AN OLD MAN INTO A BABY!! In this set collecting push your luck game, you will play as the VERY young knights, trying not to wake the VERY old Merlin. Grab cards, but everything you grab from Merlin's yard has a chance to wake him! Wake him, and potentially lose your coveted foam sword! But it went so good with your wooden shield!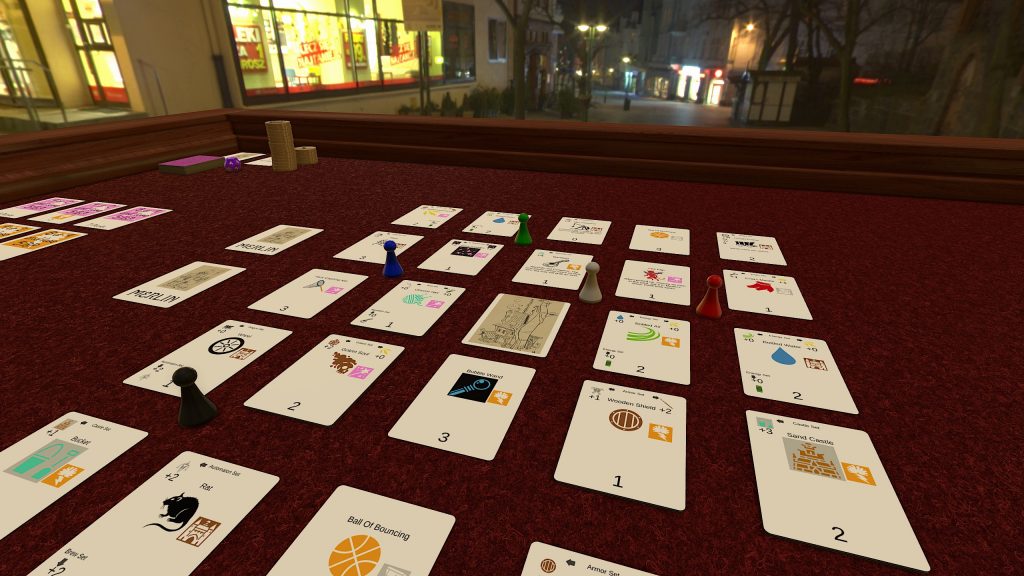 ---
---
Olith
Designed by Jarin Eastman
2-4 Players
60-120 Mins
Platform: Tabletop Simulator
Description
After the discovery of an ancient text, you assemble a group of explorers and head to the land of Olith. Each player has loyalty to a different God or Goddess, giving them special abilities, and battles for control of Olith. Will you bring Peace and Wisdom to the land, or will War and Chaos reign supreme?
Olith is a Territory Control and Exploration game for 1-4 players. Players search for artifact cards to help them gain access to and control the current active region. They may also buy supplies and hire mercenaries from port. If they can hold dominance over the active region until the beginning of their next turn, they may place victory tiles equal to the amount of units they currently have there. First player to 8 victory tokens on the board wins.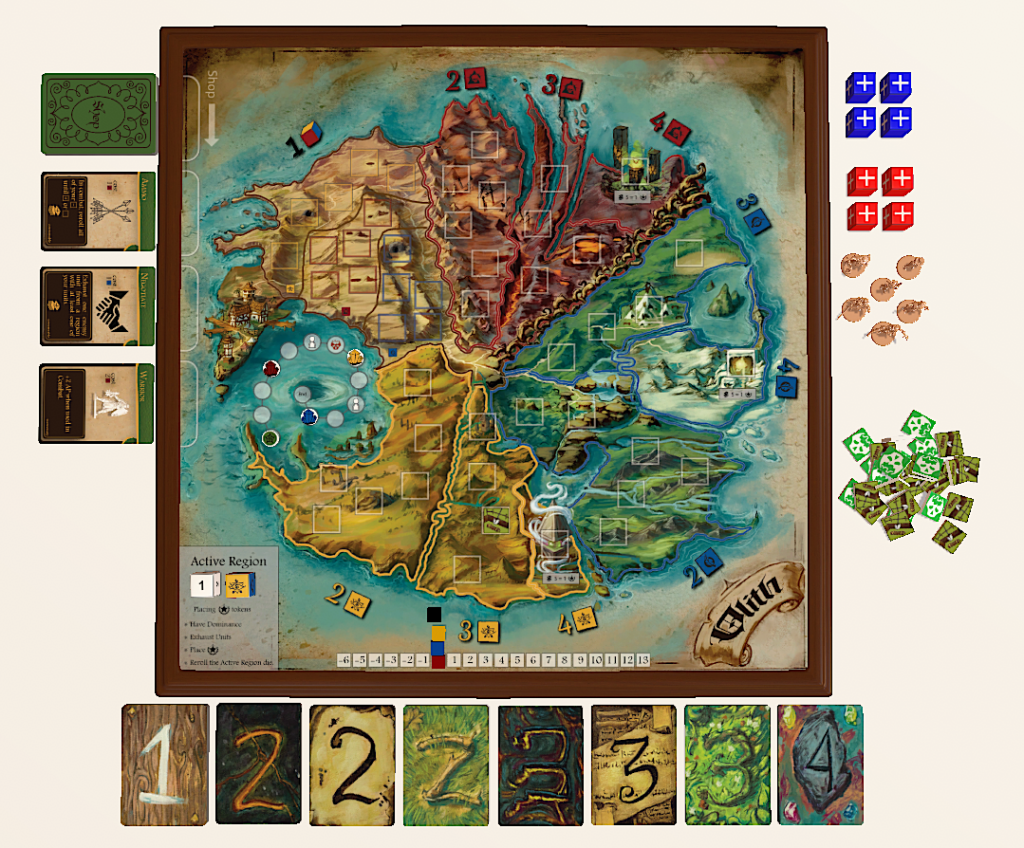 Each region has a corresponding deck of cards to draw from, and must be unlocked to move units into. Players cannot excavate a region that has already been excavated, or that has any other tile on it. Anytime a player places victory tokens in a region, a new region is randomly selected by rolling dice to be the new active region.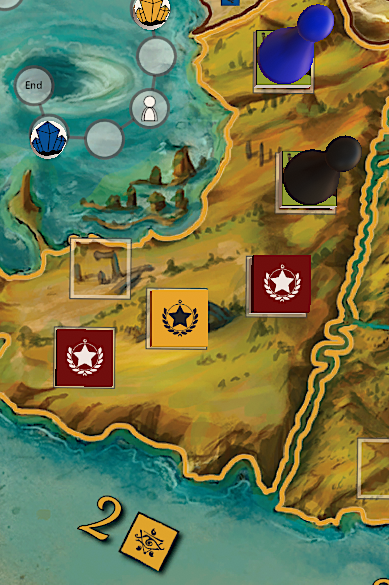 Each player has loyalty to a Goddess or God, granting them unique bonuses that encourage different play styles. Their player mat keeps track of resources and unlocked regions. While exploring, you may discover special location cards that give you a permanent upgrade. Be careful though, if you let your defenses down another player may try and attack these location cards to steal them from you.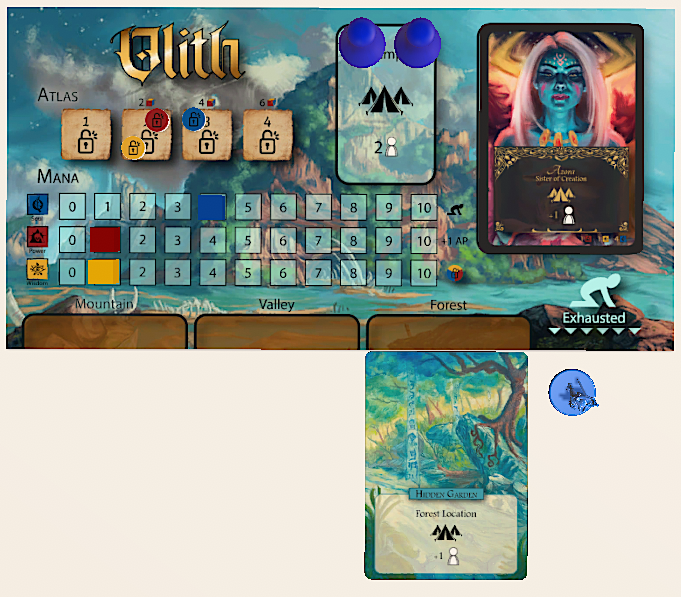 The heart of the gameplay in Olith revolves around the artifact cards you can find. Each player starts with three main cards (Expedition, Tactics, and Combat) and chooses one to play on their turn. They may then play ANY amount of artifact cards that match the symbol in the top left of the main card played. Most cards are one time effects, but some do return to your hand. Careful planning can land devastating combos against your opponents and big steps towards your victory. Returning players will understand what kind of cards come from which regions and may come up with unique strategies early on while new players will find joy in discovering new cards and becoming more powerful as the game goes on.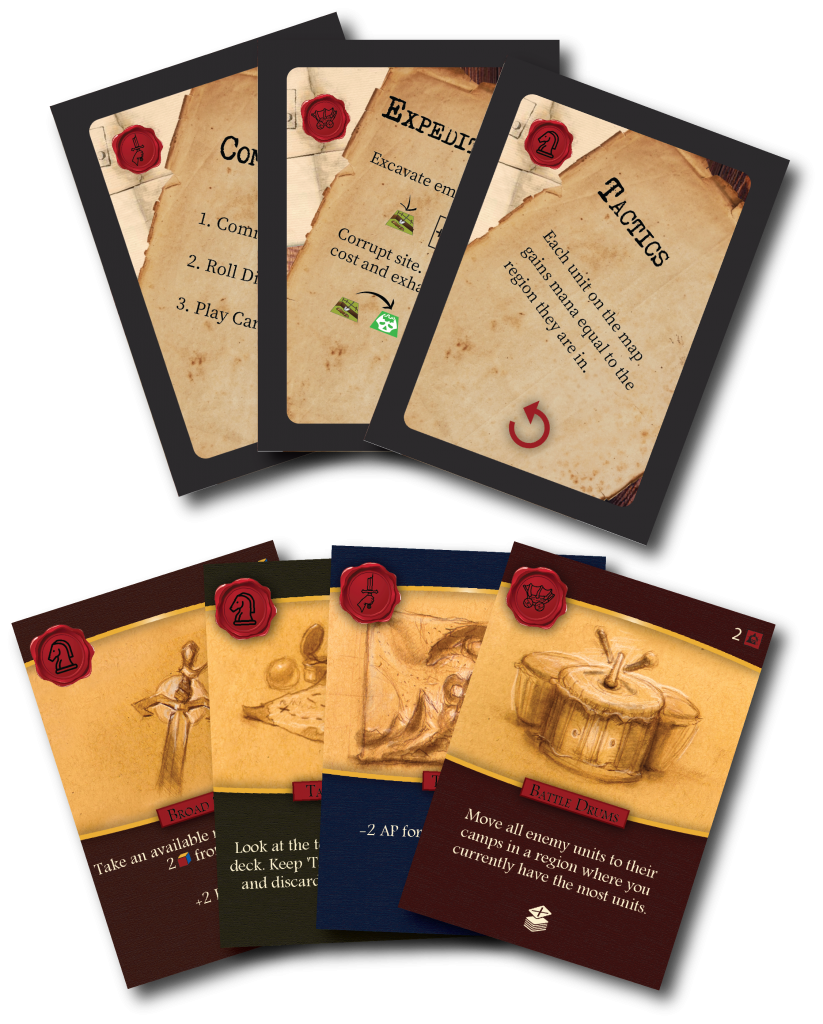 ---
---
Party Planner
Designed by Elena Sanchez
2-8 Players
60-120 Mins
Platform: Tabletop Simulator
Description
A semi-cooperative, semi-competitive scavenger hunt game about event planning that will have you collecting & trading items in order to put on the best party possible & impress your Guest of Honor!
---
---
Persuasion
Designed by Katie Allred
4-8 Players
60 Mins
Platform: Tabletop Simulator
Description
The Victorian Courtship game where you must deduce the player that meets your needs, then court or catfish them by mailing them your cards.
---
---
Settling Mars
Designed by Chris Backe
2-5 Players
30-45 Mins
Platform: Tabletop Simulator
Description
Draw-and-pass where everything is on one page! All you need is a marker of your own color and you're off. Settle Mars by planning out where bases, transportation tubes, and power plants will go, then pass the plan clockwise to the next player…
---
---
Solar Express
Designed by Riley Stock
2-4 Players
60-90 Mins
Platform: Tabletop Simulator
Description
Pick up & deliver packages from planet to planet. Plan your route accordingly though, as planets rotate. Upgrade your ship and push your luck to try and deliver quickly for a bonus. Will you run the most successful delivery service?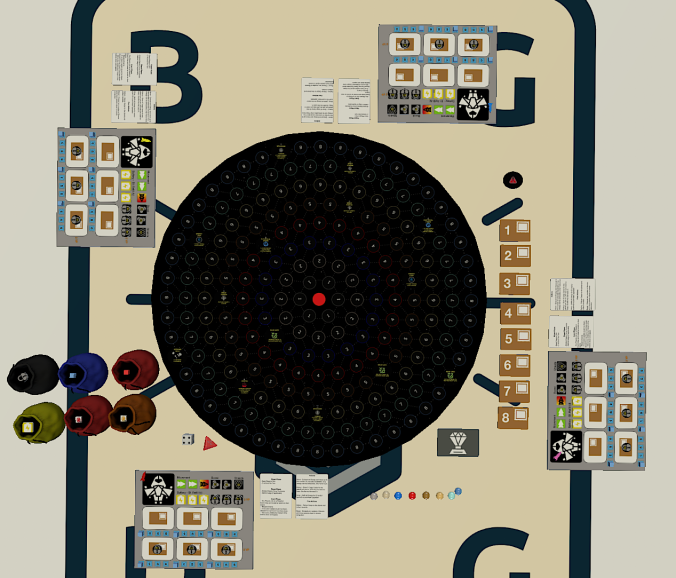 ---
---